Explore the World
For Your Dream Vacation.
Book, Call or Come See Us.
There're Many
Other Destinations.
Sunny Vacation Destinations
Artistic and Cultural Destinations
Destinations for the Adventurer
---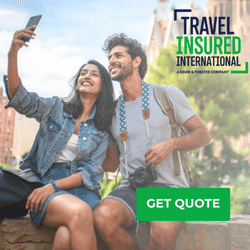 Visit us at:
829 State St, Ste. 2005
Lemoyne PA
---
7-Day Eastern Caribbean Cruise
Oasis of the Seas
Only $1,399.90 Per Person*
All Ocean-View
Balcony Staterooms
---

Holiday Tour and Travel is pleased to present our exclusive, hosted cruise collection! These spectacular sailings feature amenities that will add a special touch to your vacation. These exclusive amenities include:
Services of a Concierge Host
Private Cocktail Reception
Exclusive Shore Event
Select the destination, cruise line and itinerary that is right for you and then call or email us.
---

TripBlip is our FREE, personal vacation finder that searches for the hottest vacation offers and delivers them directly to you. When we find a matching deal, you get a quick notification via your choice of email, SMS text messaging, RSS feed, or instant message. You can also use our desktop version for even quicker notification and viewing of deals. TripBlip helps you break through the Internet clutter, and saves you time.

---
When and Why You Need
A Travel Agent?
---

Latest Travel News
Travel articles influencing our clients are gathered by TRO travelgram from top consumer publications. Explore your next vacation through the eyes of travel writers.
You'll be counting sheep at this cosseting retreat... and pigs, goats and hens too. However, a good night's sleep is guaranteed at the 17th-century farmhouse where five-star facilities come as standard.… The Independent
The Crown hotel, Exmoor, Somerset: review
The Crown, Somerset, is an Exmoor hotel offering warm service, comfortable rooms and generous breakfasts… Telegraph (London)
Smell York: tourist board launches scented guide
Tourism authorities in York have devised a novel way of enticing holidaymakers with the publication of a scented travel guidebook. Telegraph Travel offers its verdict on the odours… Telegraph (London)
Malaysia Airlines plane crash: Interpol warned of danger posed by stolen passports
The director of Interpol warned governments to do more to monitor stolen passports less than a month before Malaysia Airlines flight MH370 disappeared with four passengers on board believed to have been using stolen documents… Telegraph (London)
48 Hours In: Delhi
Join Anthony Lambert for a tour of India's multi-faceted and bustling capital as it prepares to celebrate the Hindu spring festival… The Independent
Best Places to Go in Ireland
Home to craggy cliffs and windswept valleys, to ancient castles and modern cities and roads that unfurl like ribbons, Ireland is uncommonly rich with both natural wonders and manmade attractions… Smarter Travel
Experiencing New Orleans With Fresh Eyes and Ears
Artists who have moved to the Big Easy reflect on the influences and inspiration they find in their adopted home… New York Times
10 best Chinatowns across the USA
Chinatowns are cities within cities: adventurous, bustling, full of distinctive signage, street vendors selling unusual items, specialty shops, a noted lack of big chains, a variety of dialects being spoken, and multitudes of unique and exciting food choices… USA Today
The best fine-dining restaurants in Paris
The best gourmet, Michelin-starred and fine-dining restaurants in Paris - perfect choices for special occasions and celebrations… Telegraph (London)
Save money, see the world on repositioning cruises
As cruise lines move ships between various parts of the world, passengers can find deals and unusual itineraries — plus mini-cruises in the Pacific Northwest… Seattle Times
Celebrity Cruise Lines Adds Car Service for NYC-area Suite Customers
Celebrity continues to increase perks for its suite passengers, adding roundtrip black car service for customers in the greater New York metro area on some sailings… CruiseCritic.com
French River Cruise Line Acquires Asian River Cruise Company
Europe's largest river cruise line has purchased Asian-based cruise line Compagnie Fluviale du Mékong (Mekong River Cruise Company)… CruiseCritic.com
American, JetBlue terminating frequent-flier pact
American Airlines and JetBlue are terminating their frequent-flier partnership. Implemented in 2010, the pact had allowed customers to earn miles or points on some of the other carrier's flights from New York JFK and Boston… USA Today
Europe's rail network: 10 new services across the continent
The patterns of European rail services is always in flux, as rail operators tweak schedules and routes to reflect changing demand… Misc
Super suites: If you have something to say ... say it big
The jewel in a hotel's crown was once its penthouse suite. Now, London is going larger and better … The Independent
Desert Palm Dubai hotel, Dubai: review
Desert Palm Dubai is a Dubai hotel offering spacious rooms, a luxurious spa, regular polo matches and a riding school… Telegraph (London)
Why so few clues about missing Malaysia flight?
Many people are wondering why there are so few clues about the fate of Malaysia Airlines Flight 370, beginning with the lack of a distress call… CNN
10 Reasons You're Packing Too Much
Do you struggle to make it through the airport with your unusually large suitcase? Do baggage fees dominate your credit card statements? Does your luggage frequently come apart at the seams? If you're giving a somber nod, it's time to lose the dead weight… Smarter Travel
Peru Hot Deal from $599
This FAM trip features 2 nights in Lima, and 4 nights in Cusco, including an excursion to the world-famous Machu Picchu, city tour of Lima, daily American breakfast and all your transfers… Travel Research Online
(See More Travel News)