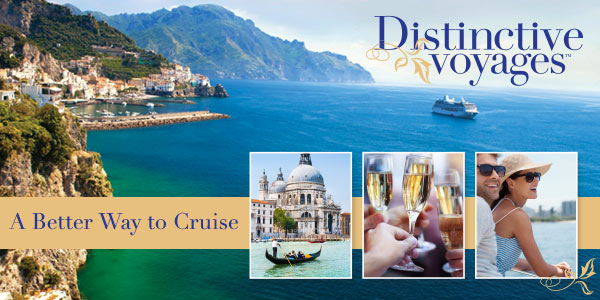 Receive the Services of a Distinctive Voyages Host, Private Cocktail Reception & Exclusive Shore Event on Select Sailings

True to its name, a Distinctive Voyages cruise is different because it comes with a special set of bonus amenities, acquired by our agency and provided to you at no additional charge. These include:
The services of a Distinctive Voyages Host to assist you throughout your journey

An invitation to a Private Cocktail Reception to meet like-minded VIPs

An Exclusive Shore Event to truly connect to the local culture
You will find more than 200 of these sailings across several cruise lines in the 2016 Distinctive Voyages E-Brochure—four of which are featured below.
These departures are exclusive to our agency, so please contact us with any questions.
"The small group for the shore event was such a treat! This was much better than the larger group tours. Our guide was knowledgeable and entertaining and we truly got to experience the local culture in a memorable way". - Guest of a Crystal Cruises® Distinctive Voyages Sailing
These exceptional sailings are available only through Holiday Tour & Travel.
Contact us today at 717-763-7878.

We have more than 200 Distinctive Voyages sailings to choose from!
Contact us today at 717-763-7878.
Terms and Conditions: Sailing dates and amenities, including exclusive shore events, are current at time of printing and are subject to change without notice. Amenities apply to 1st and 2nd passenger only. Offers are subject to availability, at time of booking, and may be altered or withdrawn at any time without notice. Booking procedure is current at time of print. Pricing will be confirmed at time of booking. Cancellations, refunds, and penalties are imposed by the individual cruise lines. Distinctive Voyages amenities may be substituted if a minimum number of guests are not confirmed on any given departure. Exclusive Shore Events vary. Combinability varies.
Vacation Code: 1115


829 State Street, Ste. 2005
Lemoyne, PA 17043
717-763-7878



Copyright © 2015, Vacation.com - All Rights Reserved.
Designated trademarks and brands are the property of their respective owners.
All prices are subject to availability and change.