Let's Adventure Together
Adventures by Disney® provides immersive, hassle-free and unforgettable group guided-family vacation experiences to destinations in Europe, North America, Central and South America, Africa, Asia and Australia. With Disney-trained Adventure Guides, engaging activities, VIP experiences and personal touches throughout, these adventures excite and delight everyone.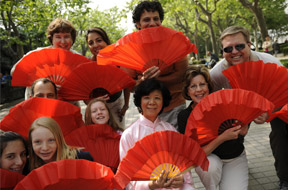 Featured adventures below - contact our agency to discuss pricing and options!
Danube River Cruise
Germany, Austria, Slovakia, Hungary
8 Days/7 Nights
Departures: July 14, 2016 - December 22, 2016

Adventures by Disney® is proud to announce their newest way to travel-one of the grandest, most immersive adventures they've ever offered! You can enjoy the excitement and ease of family river cruising to eight unforgettable destinations in four countries-Germany, Austria, Slovakia and Hungary. These 8-day/7-night, active vacations are Adventures by Disney-exclusive sailings with AmaWaterways, a leader in luxury river cruising.

New York City Long Weekend
Broadway, Times Square, Tribeca, Harlem, Central Park
4 Days/3 Nights
Departures: June 11, 2015 - October 15, 2015

Get ready for a one-of-a-kind adventure into America's melting pot of culture, cuisine, sights and activities. From Central Park to Broadway to the studios of Good Morning America-there is so much to do and experience in New York, it's no wonder they call it "The City That Never Sleeps."

Italy
Rome, Florence, Venice, Tuscany
9 Days/8 Nights
Departures: June 22, 2015 - December 29, 2015

Embrace a simpler way of life as you travel through this Old World country steeped in rich traditions, glorious history and unparalleled culture. Immerse yourself in the timelessness of the people, flavors and the landscapes on this unforgettable tour of Italy that includes a private after-hours visit to the Vatican.

China
Chengdu, Xi'an, Guilin, Shanghai, Hong Kong
12 Days/11 Nights
Departures: June 7, 2015 - October 11, 2015

Experience the yin and the yang of this mysterious Eastern country that has maintained its cultural identity for thousands of years while still becoming a thriving force in the modern world. Your tour of China will show you sights that showcase both the tradition and the progress of this great land.

South Africa
Cape Town, Knysna, Kapama Game Reserve
10 Days/9 Nights
Departures: July 25, 2015 - December 23, 2015

Bring out your wild side on a South Africa safari where you'll experience the thrill of seeing majestic animals in their natural environment. Their South Africa tour package also takes you to the southern-most tip of the continent where you can delight in the coastal scenery of the nearby mountains and lagoons.