Puerto Rico - Free night + more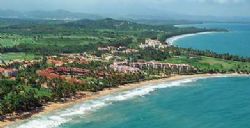 Puerto Rico - Free night + more
With dazzling beaches, friendly locals and colorful cityscapes, Puerto Rico has something for everyone. Dive through coral reefs, surf Caribbean waves, go shopping, or simply relax in a soothing spa. Puerto Rico is ready for tourism, and the island is as welcoming as ever.
Take advantage of these special offers with flight and hotel packages to select resorts:**
...

Delta Vacations gives you the benefits and flexibility to truly own your vacation experience with packages inspired by hundreds of destinations, thousands of accommodations and endless activities.
Benefits of booking with Delta Vacations:
Enjoy savings when you package your flights, hotels, car rentals and more to any of our 300+ destinations worldwide.
Relax and book your dream getaway with ease, knowing you're getting the best price with our
...
Multiple departures available